Photograph of the month – October 2017


Does anyone recognise this Lodsworth grave?


Until recently this small urn was almost hidden in St Peter's lower churchyard. We have cleaned up around it exposing a stone tablet with the inscription:

"In loving memory of Bridget Caroline OLDER who died 28th June 1961 aged 9 months
Safe in the arms of Jesus"

We are clearing and recording as many of the graves as possible in both the upper and lower churchyards, and results of this will be on display at our 15 November event.
The Society wins Best Website of the Year Award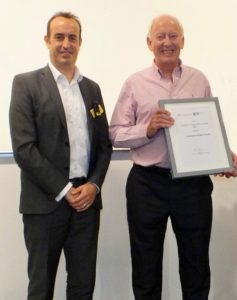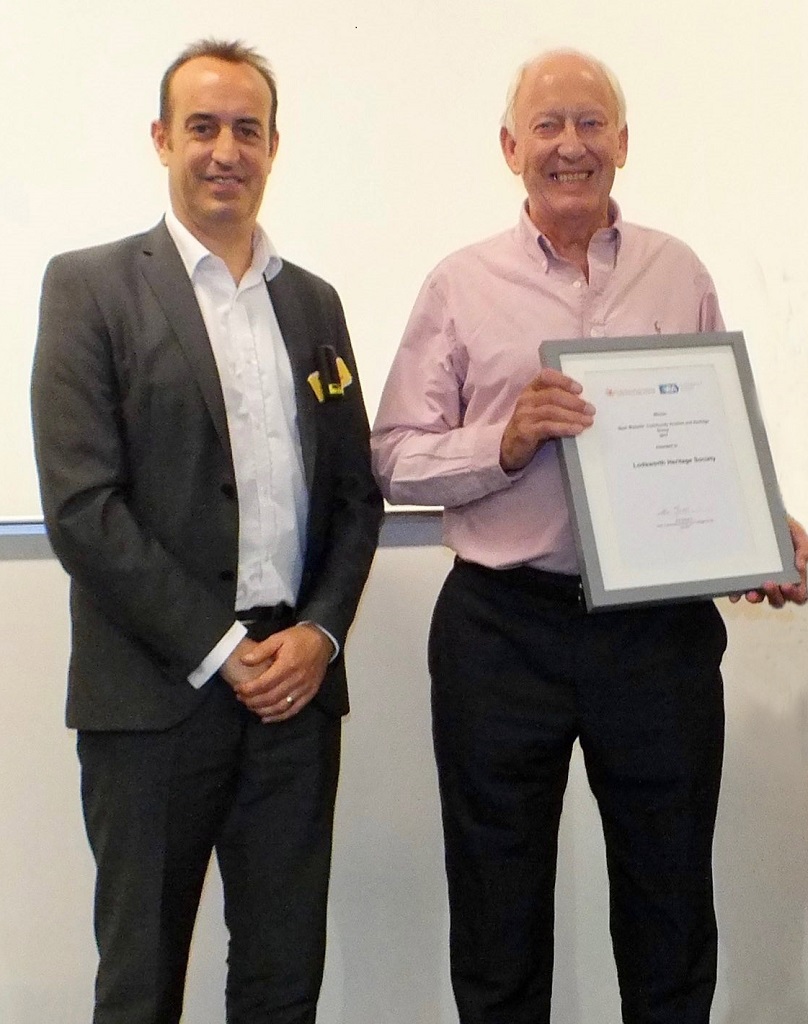 We are delighted to announce that LHS is the proud winner of the 'Best Website' category of the prestigious annual awards from the Community Archives and Heritage Group (CAHG).  An extract from their press release follows:
"The Lodsworth website stood out for its all-round design, accessibility and quality. It is evident that a lot of thought has gone in to using easily-available templates and functionality, with clear links to the society's research into local history and encouraging local residents to take an interest. Events pages are kept well up to date and the whole site contains a real community feel.  While some websites focus on visual impact alone, the Lodsworth just seemed rooted in offering a quality experience."
The awards were announced on July 11th at the CAHG annual conference held at University College, London.  The photograph shows Dr Nick Barratt, known for his presentation of the BBC series Who Do You Think You Are? who presented the award, with Ian Buckingham, the designer and creator of the website.
The new Lodsworth Community Archive & Study Centre

The Lodsworth Village Hall Committee has agreed that a small room within the hall can be converted into a Lodsworth Community Archive & Study Centre. Permission has been obtained from the licensing and fire authorities and work on the conversion will start soon. The centre will be used for safe storage of all our historic documents and photographs, plus those of other Lodsworth organisations and clubs who wish to participate. Once set up, it will provide a study centre where all parishioners and others wishing to research the history of the parish will be welcome.

Please contact us if you would like to provide help or support.
Lodsworth businesses past and present
Our autumn event in Lodsworth village hall in November 2015 was an amusing and informative evening exploring Lodsworth businesses past and present. Much more still needs to be researched, so please help if you can. Do you have historical information, photos or documents about Lodsworth:
Farms

Nurseries

Mills

Garages

Brickmakers

Wheelwrights

Blacksmiths

Builders

Timber merchants

Shops

Public houses

Post offices

and more
If you can help, please contact Ian Buckingham with details of what you have.
A Lodsworth Timeline
See A Lodsworth timeline for a list of major events in the history of our village from 1116 to the present day. You can purchase a printed copy from Lodsworth Larder.
Lodsworth's buildings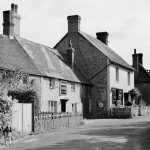 We are collecting basic information about the histories of buildings in Lodsworth parish. See Lodsworth's buildings to search for a building and view an outline of its history. If you have additional information or photographs of the church & chapels, houses, schools, shops, licensed premises, etc please contact us.
Finding a grave in Lodsworth's Lower Churchyard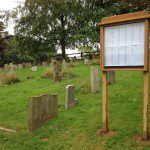 Have you seen the information board in Lodsworth's lower churchyard?  It will help villagers and researchers find a grave. An expanded version of the information has been added to this website. See Register of Burials. The information is based on the Register of Burials for that part of the churchyard which goes back to 1943.  Our thanks to Derrick Turriff and Jill & Barry Norris for their hard work in transcribing and interpreting the information.