We have erected an information board in the lower churchyard to help villagers and researchers find a grave. The information on the board is based on the Register of Burials for that part of the churchyard, which goes back to 1933.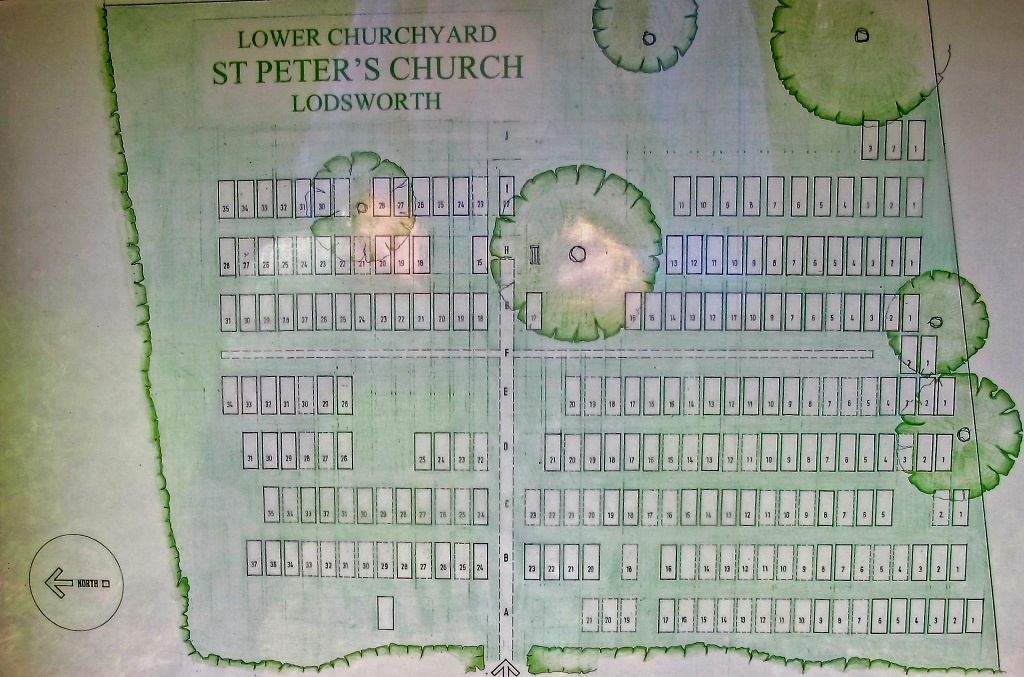 Our thanks to Jill & Barry Norris, James Tree and Derrick Turriff for their hard work in transcribing and interpreting the information. Also thanks to the Parochial Church Council and the Lodsworth Fete Committee who helped fund the project.
The information on the board is expanded below so that you can  search for a burial and grave on-line. To search for a person, type their family name, first name or abode into the search box. Then find the location of their grave on the plan above.

Inevitably there will be some discrepancies.  Contact us if you find an error or have any queries.
| Family Name | First Names | Abode | Age | Buried | Plot |
| --- | --- | --- | --- | --- | --- |
| Adams | Sandra Diana Peta | North Court, Lodsworth House, Lodsworth | 61 | 2004 | I2 |
| Agate | Winifred Doris | Lodsworth | 19 | 1939 | B12 |
| Allman | Maureen Ann | Vine Cottage, Easebourne (formerly Swallow Court) | 52 | 1991 | H11 |
| Antram | Arthur Burnaby | Keys Wells, Upperton, Tillington | 75 | 1987 | H13 |
| Antram | Mary | 22 Barton Farm, ? Abbas, Dorset | 87 | 2006 | H13 |
| Aves | Rosemary Dorothy Ash | Kingsfild, Jubilee Way, Faversham, Kent | 92 | 2013 | Ashes |
| Ayling | Alice | Lickfold | 82 | 1965 | B22 |
| Ayling | Edith | Tillington | 76 | 1954 | C35 |
| Ayling | William James | Lickfold | 64 | 1948 | B22 |
| Ayling | William James | The Old Shop, Lickfold | 67 | 1977 | G20 |
| Baker | Alice | 9 Oakfield, Lodsworth | 82 | 1996 | Unknown |
| Baker | Eliza | Lickfold | 77 | 1935 | A9 |
| Baker | James George | 12 Beechfield, Lodsworth | 70 | 1965 | E15 |
| Baker | Moses | Lickfold | 88 | 1942 | A9 |
| Baldwin | George Clifton | Applegarth, Church Lane, Lodsworth | 84 | 2006 | Ashes |
| Barber | Zoe Gertrude | The Old Nursery, Lodsworth | 83 | 1997 | Ashes |
| Barker | Edward Aston | Leggatt Hill Farm | 73 | 1976 | F1 |
| Barker | Roy | | | 1979 | Unknown |
| Barnes | Susan Capron | Leggatt Hill Farm | 94 | 2006 | Old |
| Barnett | Lucy Jane | Westholme, Clive Avenue, Worthing | 83 | 1975 | Old |
| Barnett | Robert Phillip | Chichester (107 Rice Lane, Liverpool) | 19 | 1944 | C14 |
| Barnett | William Henry | Aldingbourne House, Aldingbourne | 31 | 1944 | C14 |
| Barrow | Frederick James | Smithbrook Cottage, Lodsworth | 72 | 1956 | D20 |
| Barrow | Ronald Noel Frederick | 15 Beechfield, Lodsworth | 80 | 1996 | Ashes |
| Barrow | Sarah | Lodsworth | 70 | 1960 | D20 |
| Bathgate | Ian Douglas | 28 Moseley Rd, Cheadle Hulme, Stockport | 71 | 2006 | E34 |
| Bathgate | Joan | Died at 21 Heath Mead, Wimbledon | 34 | 1965 | E34 |
| Bayley | George Sutton | Heathleigh, Lodsworth | 78 | 1989 | Ashes |
| Bayley | William | Ancton Lodge, Ancton Lodge Lane, Middleton-on-Sea | 82 | 1988 | Unknown |
| Bayley | Winifred Gertrude | Ancton Lodge, Ancton Lodge Lane, Middleton-on-Sea | 73 | 1983 | H22 |
| Bean | Elsie May | Beechfield Cottage, Lodsworth | 48 | 1955 | D10 |
| Berry | Bertha | Lickfold | 66 | 1943 | C8 |
| Berry | Ivy Mabel | Birchtrees Rest Home, Eastbourne | 97 | 2009 | H21 |
| Berry | William | Lickfold | 35 | 1935 | Middle |
| Bett | Richard Charles | Died in University College Hospital | 59 | 1965 | F1 |
| Blake | Ada Mary | Chichester, Royal West Sussex Hospital | 81 | 1957 | D23 |
| Blake | Henry | Chichester, St Richard's Hospital | 89 | 1957 | D23 |
| Bloor | Dorothy Elsie | Barlavington Manor Nursing Home | 85 | 2000 | Ashes |
| Bloor | Reginald Frank | Cedar Grove, Lodsworth | 67 | 1981 | Ashes |
| Board | John Arthur | South View, Lodsworth | 69 | 1965 | Ashes |
| Bonsey | Basil (Bill) Thomas | Stone Haven, Lodsworth Common | 72 | 1999 | I7 |
| Bostok | Alice Mary | Old Well House, Lodsworth | 85 | 1962 | C23 |
| Bowers | Hazel Grant | 13 Woodend, Horsham | 81 | 2004 | Ashes |
| Boxall | Charles | Smithbrook, Lodsworth | 68 | 1943 | B13 |
| Boxall | Ernest Charles | Oaklands, Lodsworth | 73 | 1975 | D26 |
| Boxall | Gladys Ellen | Oaklands, Lodsworth | 51 | 1959 | D26 |
| Boxall | Janet | Cherry Cottage, Lodsworth Common | 69 | 1961 | D30 |
| Boxall | Kate | Lodsworth | 78 | 1938 | B8 |
| Boxall | Laura May | Lodsworth | 61 | 1939 | B14 |
| Boxall | Minnie | 5 Newland, Honiton | 76 | 1936 | Middle |
| Boxall | Percy | River, Tillington | 21 | 1940 | B16 |
| Boxall | Ruth | High Street, Lodsworth | 71 | 1950 | B32 |
| Boxall | William | Cherry Cottage, Lodsworth Common | 87 | 1949 | B8 |
| Boxall | William Lawrence | Cherry Cottage, Lodsworth | 73 | 1961 | D31 |
| Bray | John Henry | Lodsworth | 75 | 1939 | Old |
| Bridger | Ellen | Woodbridge, Dodsley, Easebourne | 95 | 1944 | B1 |
| Bridger | James | Lodsworth | 67 | 1937 | B1 |
| Bridle | Alice Leah | School Lane, Lodsworth | 79 | 1957 | D27 |
| Bromshaw | Amelia | Lodsworth | 75 | 1947 | C27 |
| Bronham | Ernest | 1 Terminus Road, Chichester | 70 | 1956 | D16 |
| Bronham | George | 1 Terminus Road, Chichester | 81 | 1956 | C27 |
| Brown | Henry Colborne | Lodsworth | 64 | 1957 | Ashes |
| Buck | Matilda May | 86 Hampton Road, Twickenham | 72 | 1960 | Unknown |
| Buck | Rodney Stephen | Valewood House, Lurgashall | 58 | 2006 | I34 |
| Budd | Elizabeth Kate | Longfield, Cranleigh | 95 | 1985 | Ashes |
| Budd | Marie Francoise | 26 Cherry Grove, Sketty, Swansea | 88 | 1956 | Old |
| Budd | Robert (Husband of Marie) | Lodsworth | 65 | 1929 | Old |
| Budd | Robert Amedee | Shillinglee | 66 | 1960 | Old |
| Burchall | Horace Llewellyn | Lodsworth | 46 | 1936 | A19 |
| Burchell | George | Lodsworth | 73 | 1934 | A7 |
| Burchell | Hilda | Lodsworth | 86 | 1972 | A19 |
| Carmichael | David Andrew H | Deerfell, Blackdown Park, Fernden Lane, Haslemere | 73 | 2010 | I24 |
| Carter | Christina | Halfway Bridge Inn, Lodsworth | 87 | 1968 | E31 |
| Carver | Charles John | Sedgwick Lane, Horsham | 10 | 1942 | C5 |
| Carver | Fanny | Lodsworth | 73 | 1939 | B9 |
| Carver | George Henry | Horsham | 79 | 1969 | E4 |
| Carver | George Thomas | Oak Tree Cottage,Lodsworth | 86 | 1950 | B9 |
| Carver | Gerald Frederick | Sedgwick Lane, Horsham | 19 | 1942 | C11 |
| Carver | Harry (& Ethel) | Hurst Cottages, Lickfold | 90 | 1997 | H6 |
| Carver | Rebecca Susan | 10 Gagglewood, Mannings Heath, Nuthurst | 74 | 1961 | E4 |
| Carver | William | Land of Nod, Headley | 87 | 1944 | Unknown |
| Chandler | Alec | 13 Beechfield, Lodsworth | 50 | 1972 | G4 |
| Chandler | Florence | Smithbrook, Lodsworth | 56 | 1941 | B19 |
| Chandler | Gertrude Francis | High Street, Lodsworth | 64 | 1960 | D29 |
| Chandler | Harry | Little Gulls, Lodsworth | 98 | 1989 | B23 |
| Chandler | Jesse | Lickfold | 92 | 1953 | D4 |
| Chandler | John | Lurgashall | 75 | 1938 | B7 |
| Chandler | Kate | Smithbrook, Lodsworth | 75 | 1956 | D21 |
| Chandler | Kathleen Winifred Rosalie | 13 Beechfield, School Lane | 92 | 2013 | G4 |
| Chandler | Marguerite May | Bromley | 52 | 1950 | Old |
| Chandler | Roland | Keets, Lodsworth | 82 | 1968 | A17 |
| Chandler | Rose Maria | Lodsworth | 45 | 1936 | A17 |
| Cheesman | Arthur Leslie | Lickfold | 30 | 1933 | A5 |
| Childerstone | Harriet Mary | Oakhurst, Midhurst | 92 | 1968 | E32 |
| Childs | Margaret Mansfield | The Cotswolds Home, Burford | 93 | 2009 | I26 |
| Claridge | Walter George | Smithbrook, Lodsworth | 75 | 1946 | C22 |
| Clark | Marion Lucy (Molly) | Dunston House, Lickhill Road, Calne | 82 | 1998 | Ashes |
| Clark | Robert | Gentils Cottage, Lickfold | 78 | 1979 | Ashes |
| Collins | Barbara Winifred | Lickfold | 5 wks | 1939 | A |
| Cooper | Lee | 21 Mill Lane, Trotton | 1½ days | 1976 | G14 |
| Cooper | Robert Frederick | 2 Meadway, Midhurst (formerly of this parish) | 74 | 2001 | G11 |
| Cooper | Stephen Andrew | 11 Beechfield Cottages, Lodsworth | 16 | 1975 | G11 |
| Copland | Hilda Louisa | Tilford Park Nursing Home, Grange Road, Tilford | 90 | 2000 | Ashes |
| Copland | Patrick Ray | Lodsworth | 80 | 1981 | Ashes |
| Corbett | Joan | | | 2014 | Ashes |
| Corbett | John William Spencer | The Studio, Lodsworth | 81 | 1990 | Ashes |
| Corfe | Arthur | Old Engine House, Kingsham, Milland, Liphook | 78 | 1981 | H15 |
| Corfe | Charlotte | 22 Morris Lane, Leeds | 91 | 1953 | D7 |
| Corfe | Mary Ann Agnes | Manor Fields, 47 Farley Road, Derby | 94 | 2006 | H15 |
| Cornah | Jeannie Lydia | Gentilshurst, Lodworth | 65 | 1948 | A1 |
| Cornah | Joseph Ralph | Gentilshurst, Lodworth | 70 | 1943 | C7 |
| Courtenay | Caleb | Well Cottage,Lodsworth | 85 | 1953 | C32 |
| Courtenay | Fanny | Well Cottage,Lodsworth | 84 | 1951 | C32 |
| Courtenay | Philip Henry James | Love? Cottages, Lodsworth | 63 | 1965 | C32 |
| Cox | Frank Arthur | 9 College Lane, Chichester | 39 | 1943 | C10 |
| Cranstone | Jane | Berryfield, Lodsworth | 79 | 1949 | B23 |
| Cranstone | William Issac | Berryfield, Lodsworth | 73 | 1948 | B23 |
| Crosbie | Olive Irene | Lane House, Lodsworth | 81 | 1975 | Ashes |
| Cross | Noreen Joyce | 13 Beechfield, Lodsworth | 79 | 1984 | H25 |
| Cunliffe | May Evelyn | Deans Lodge, St Georges Road, Sevenoaks | 82 | 1961 | Old |
| Cunliffe | Robert Henry Neville | 25 St James Court, London SW1 | 65 | 1949 | Old |
| Currie | Thomasina McMorran | The Croft, Lodsworth | 89 | 1984 | Ashes |
| Custance | Katharine Patricia M | Norfolk | 91 | 2013 | I9 |
| Custance | Michael Magnus Vere | 7 Claremont Way, Midhurst | 83 | 1999 | I9 |
| Davies | Ann | 22 Oakfield, Lodsworth | ? | 1987 | Unknown |
| Davies | David Michael Anthony | Old Bakery, The Street, Lodsworth | 18 | 1998 | H4 |
| Davies | Frank | Oakfield, Lodsworth | 67 | 1979 | G28 |
| Dawes | Philippa Sophy | 1. Norwood, Lodsworth | 3 | 1971 | G2 |
| Dennett | Hannah (Ivy) | Foxcombe, Harting | 59 | 1962 | Old |
| Dernell | Hannah | Great House, Lodsworth | 82 | 1947 | Old |
| Dinnis | Audrey | Formerly of The Vicarage, Lodsworth | 80 | 1995 | Ashes |
| Dinnis | William Dudley | 1 Heathfield Close, Midhurst | 67 | 1979 | Ashes |
| Dobson | Edmund Arthur | Gentilshurst, Lodsworth | 80 | 1937 | A1 |
| Dobson | Edmund William Henry | Gentilshurst, Lodsworth | 34 | 1939 | C2 |
| Dowding | Michael Frederick | Lowlands, Bath Road, Marlborough | 72 | 1991 | Ashes |
| Downing | David Allen | Heathleigh, School Lane, Lodsworth | 63 | 1998 | I1 |
| Dowsey | Charles Edward | Lodsworth | 69 | 1943 | C9 |
| Drew | Dan | (Memorial Service in Lodsworth Church) | ? | 1974 | Unknown |
| du Breul | Charles Walter | Redens, Lodsworth | 63 | 1937 | Ashes |
| Du Breul | Gladys | Redens, Lodsworth | 84 | 1983 | Unknown |
| Dudman | Amelia | Hazel View, Lodsworth | 79 | 1972 | Service |
| Dumbrill | Rosalind May | Cobden's Farm Cottage, Lickfold | 1 day | 1946 | A |
| Dykes | Gwendolen Edith | Summerhayes, Sandford, Crediton | 97 | 2001 | D12 |
| Ede | George Henry | Lodsworth Common | 38 | 1965 | E13 |
| Evans | Leonard Arthur | (Lord Brecknoch's Butler) | 56 | 1978 | G21 |
| Everett | Francis Emma | 9 College Lane, Chichester | 88 | 1962 | Middle |
| Farrier | Irene Olive | Formerly of Lodsworth | 91 | 1993 | Ashes |
| Faulkner | Lizzie | Lodsworth | 70 | 1946 | C6 |
| Faulkner | Theodore Bishop | Kiln Fields, Haslemere | 74 | 1943 | C6 |
| Fiennes | Audrey Joan Twisleton Wykeham | Previously of Robins, Lodsworth | 92 | 2004 | I35 |
| Fletcher | Mary Theresa | Hill House, School Lane | 79 | 1977 | G19 |
| Fletcher-Jones | Dilys Mary | Lickfold Cottage, Lickfold | 88 | 1997 | Ashes |
| Fogden | Emma Lydia | Kipson Bank, Selham Road, Halfway Bridge | 91 | 2002 | I4 |
| Fogden | Patrick John | Kipson Bank, Selham Road, Halfway Bridge | 89 | 2002 | I4 |
| Fogden | Roger Charles G | Highbury Terrace, London | 62 | 2010 | I4 |
| Fraser | Alasdair Duncan | 4 The Croft, Lodsworth | 59 | 1992 | Ashes |
| Gamlin | Elizabeth Adelaide | Lodsworth | 89 | 1962 | D9 |
| Gamlin | Florence Ruby | Selham Road | 83 | 1990 | Ashes |
| Gamlin | Henry Herbert | Halfway Bridge, Lodsworth | 83 | 1954 | D9 |
| Gamlin | Henry William | Halfway Bridge, Lodsworth | 86 | 1985 | H23 |
| Gamlin | Nellie | Downsview, Lodsworth | 87 | 1984 | H23 |
| Gill | Alfred James | Lodsworth | 74 | 1944 | C13 |
| Gill | Ida Rawlings | Genisters (?) Lodsworth | 89 | 1963 | C13 |
| Goold | Arthur Duncan Canning | 1 Tudor Court, Bognor Regis | 85 | 2003 | E29 |
| Gordon | Kenneth | St Peter's Well, Lodsworth | 58 | 1955 | D14 |
| Gordon | Marie Josephine | Lodsworth House | 97 | 2003 | Ashes |
| Gore Brown | Anthony Giles Spencer | Petworth Cottage Nursing Home | 69 | 2014 | J3 |
| Gough | Barbara May | | 71 | 1979 | G27 |
| Gregory | Amy Annie | Greenfields, Fern Close, Middleton-on-Sea | 94 | 1981 | Ashes |
| Gregory | William | | ? | 1974 | Ashes |
| Gregory | William Thomas Dudman | Greenfield, Penn Close, Middleton-on-Sea | 86 | 1974 | Ashes |
| Haines | "Baby" | Lodsworth | 1 hour | 1955 | Middle |
| Haines | Adela Irene | Church Lane, Lodsworth | 49 | 1947 | Middle |
| Haines | Alfred George Robin | Ivy Cottage, Church Lane, Lodsworth | 77 | 1978 | Middle |
| Haines | Frederick | Midhurst | 64 | 1962 | D25 |
| Haines | Grace | Halfway Bridge, Lodsworth | 62 | 1957 | D25 |
| Haines | Jane | Huntingford Farm, Headley | 84 | 1945 | Middle |
| Haines | Ronald Sidney | | 62 | 1984 | Ashes |
| Haines | Frederick Roger | Leggatt Hill, Lodsworth | 20 | 1942 | B21 |
| Hall | Harriet Ann | Lodsworth | 97 | 1933 | A2 |
| Hamilton | Dennis Paxton | Clare Cottage, Vicarage Lane, Lodsworth | 92 | 2007 | Unknown |
| Hamilton | Jean Findlay Campbell | Clare Cottage, Lodsworth | 78 | 1996 | Ashes |
| Hammick | Alexander Robert | The Old House, Lodsworth | 81 | 1969 | Ashes |
| Hammick | Anne Felicity | New House, Lodsworth | 86 | 2006 | Old |
| Hammick | Nancy | The Old House, Lodsworth | 74 | 1964 | Ashes |
| Hammond | William | Church Lane, Lodsworth | 71 | 1950 | C30 |
| Hanbury | James William | The Croft, Lodsworth | 74 | 1984 | H28 |
| Hancock | Joan Mary | Hanridge, Selham Road, Halfway Bridge | 80 | 2003 | H5 |
| Hancock | Richard Sidney | Hanridge, Selham | 70 | 1997 | H5 |
| Harding | Florence Alice | Yew Tree Cottage, River, Tillington | 52 | 1951 | C33 |
| Harding | Frederick Archibald | 14 The Hollows, Tillington | 77 | 1974 | Unknown |
| Harnett | Charles Edwin | The Nore, Halfway Bridge, Petworth | 99 | 1978 | G5 |
| Harnett | Elizabeth Flora | The Nore, Halfway Bridge, Petworth | 93 | 1972 | G5 |
| Hassell | Ladas Lewis | King Edward VII Sanatorium, Midhurst | 69 | 1963 | Old |
| Hassell | Margery Henriette | The Street, Lodsworth | 79 | 1977 | Ashes |
| Hayter | Albert George | | 76 | 1992 | Ashes |
| Hayter | Gladys Beatrice Maud | 1 New Road Flats, Midhurst | 79 | 2003 | I3 |
| Hedger | Charles | Lickfold | 90 | 1935 | M |
| Hedger | Martha Jane | The Martlets, Sea Road, East Preston | 95 | 1979 | G26 |
| Hill | Charles Cliff | Oak Cottage, Leggatt Hill | 58 | 1950 | B28 |
| Hill | Jack | Easbourne | 82 | 1979 | G29 |
| Hill | Jack | 57 Vining, Easebourne | 77 | 2003 | I3 |
| Hill | Mabel Frances Victoria | 57 Vining, Easebourne | 81 | 1983 | G29 |
| Hill | Robert | Leggatt Hill, Lodsworth | 2 days | 1947 | A |
| Hill | Ruby Olive Rose | Formerly of Leggatt Hill, Lodsworth | 92 | 1996 | B28 |
| Hills | Anthony Randall | Lodsworth | 10 days | 1942 | A |
| Hoare | Barbara | 1 Nursery Cottage, Chithurst Lane, Trotton | 83 | 2004 | G30 |
| Hoare | Joseph Walter | Leggatt Hill, Lodsworth | 77 | 1958 | D24 |
| Hoare | Thomas Frederick | 1 Nursery Cottages, Trotton | 72 | 1986 | G3 |
| Hoddinott | Henry Herbert | Eden Vale, Halfway Bridge, Lodsworth | 85 | 1950 | B30 |
| Hoddinott | James Henry | Lodsworth | 10 mos | 1936 | A |
| Holden | Susan | Lodsworth | 83 | 1935 | A15 |
| Holmes | Edmund Donald | Lickfold Green | 4 | 1934 | Unknown |
| Holmes | George Edward | Lickfold | 74 | 1944 | Middle |
| Holmes | George Edward | Dial Green, Lurgashall | 81 | 1978 | G22 |
| Holmes | Hilda | Lickfold | 51 | 1941 | |
| Hottenroth-Roffey | Chistopher Myles | Moetmare Strasse 17, Warendorf, Germany | 47 | 2004 | I10 |
| Hottenroth-Roffey | Hilary Claire | 193 Rue de L'Eglise, Saint-Hilaire-Saint-Mesmin, France | 46 | 1998 | I10 |
| Howard | Ann | Post Office, Nutbourne, Chichester | 88 | 1944 | C11 |
| Howard | Beatrice Maud | Church Lane Cottage, Lodsworth | 77 | 1969 | Ashes |
| Howard | Bertram Rogers | Smithbrook, Lodsworth | 80 | 1956 | D17 |
| Howard | Dighton Lionel | Bexley Hill, Lodsworth | 43 | 1945 | C18 |
| Howard | Thomas | Lodsworth | 87 | 1943 | C11 |
| Howard | Vera Rosemary | The Common, Lodsworth | 23 | 1947 | A20 |
| Howard | William | Lodsworth | 69 | 1949 | B27 |
| Howick | John | Lodsworth Common | 79 | 1947 | B18 |
| Howick | Rose | Lodsworth Common | 64 | 1941 | B18 |
| Hurst | George Henry | Well Cottage, Lodsworth | 52 | 1965 | E16 |
| Hurst | Jean Ann | Lickfold | 7 months | 1935 | A |
| Hyde | Elizabeth | 19 Park Terrace East, Horsham | 68 | 1949 | C29 |
| Hyde | Frederick | Lickfold | 67 | 1948 | B25 |
| Hyde | Frederick | 10 Warren Road, Guildford | 46 | 1952 | B34 |
| Hyde | William Joseph | Lickfold | 67 | 1976 | G16 |
| Hyde | Winifred Daisy Gladys Violet | Holmbush Way, Midhurst | 96 | 2004 | G16 |
| Jackson | Barbara Mary | The Pound House, Lodsworth | 67 | 1981 | H18 |
| Kent | Mabel | Lickfold Cottage, Lodsworth | 69 | 1949 | Old |
| Kershaw | Kenneth Michael | Duck Cottage, Hollihurst Road, Lodsworth | 71 | 2011 | I33 |
| Kershaw | Margaret Theresa McD | Duck Cottage, Lodsworth | 67 | 2006 | I33 |
| Killick | Paul Victor St. John | Rose Cottage, Bexley Hill, Lodsworth | 82 | 1998 | I11 |
| Killick | Sylva Augusta | Rose Cottage, Bexley Hill, Lodsworth | 82 | 2004 | I11 |
| King | Russell Philip | Brinklow Marina, Rugby | 37 | 2007 | I30 |
| Kingshott | Alice Robinson | Hazel View, Lodsworth | 91 | 1961 | Middle |
| Kingshott | Edith Emma | Stonelands, School Lane, Lodsworth | 83 | 1997 | Ashes |
| Kingshott | Edmund | 18 Bayley Road, Tangmere | 80 | 1986 | Ashes |
| Kingshott | Mildred Caroline | | 86 | 1997 | Ashes |
| Kingshott | Roger Ian | Stonelands, School Lane, Lodsworth | 37 | 1980 | H19 |
| Kingshott | William | Stonelands, School Lane, Lodsworth | 81 | 1989 | H19 |
| Kitley | Edith | Leggatt Hill | 54 | 1950 | A10 |
| Kitley | Frederick George | Lodsworth | 36 | 1935 | A13 |
| Lamaison | Dorothy Isobel | Pound House, Lodsworth | 88 | 1978 | Unknown |
| Lambert | Godfrey Watson | Bellfield, Lodsworth | 59 | 1981 | D5 |
| Lambert | John Hayes | Lodsworth | 70 | 1953 | D5 |
| Lambert | Winifred Alice | Bury House, Bury (late of Lodsworth) | 86 | 1971 | D5 |
| Lannowe | Iris Gwendoline Mathew | | 86 | 1972 | Ashes |
| Latham | Amy | Woodford, Essex | 77 | 1945 | Ashes |
| Lauckner | Dorothy Frederica | Lodsworth | 43 | 1934 | A11 |
| Lauckner | Nellie | High Street, Lodsworth | 64 | 1950 | B31 |
| Lever | Maria Cristina | Carron Lane Cottage, Carron Lane, Midhurst, | 59 | 2007 | I32 |
| Lines | Joyce | Pound Cottage, Lodsworth | 66 | 1991 | Ashes |
| Longhurst | Barbara | Old Vining Wood, Lodsworth | 89 | 2013 | Ashes |
| Longman | Valerie Ann | 3 Martlet Road, Petworth | 75 | 2013 | J2 |
| Lovell | Marguerite Elizabeth | The Dale, Lodsworth | 78 | 1949 | C28 |
| Lovell | William Edward | Lodsworth | 75 | 1949 | C28 |
| Lucas | Charles | Formerly of Lodsworth | 87 | 1945 | Old |
| Lucking | Angelina Emma | Halfway Bridge, Lodsworth | 90 | 1961 | B36 |
| Lucking | George Percy | The Retreat, Halfway Bridge, Lodsworth | 81 | 1954 | B35 |
| Lucking | Jessie Ellen | The Retreat, Halfway Bridge | 83 | 1950 | B29 |
| Lucking | William Edward | Halfway Bridge, Lodsworth | 72 | 1942 | |
| Luff | Cecily Nellie May | Van Cottage, Lodsworth | 95 | 1989 | Unknown |
| Luff | Lionel Ernest | 1 Van Cottages, Lodsworth | 83 | 1976 | G17 |
| MacNaughton | Forbes Lancaster | Weavers, Lodsworth | 68 | 1959 | E2 |
| Martlew | George | Stopham House, Stopham | 84 | 1974 | G9 |
| Martlew | Jessie Marian | 3 Leggatt Hill, Lodsworth | 83 | 2012 | I25 |
| Martlew | Leonard Thomas | 3 Leggatt Hill, Lodsworth | 86 | 2010 | I25 |
| Masefield | Valentine Lucy | Barlavington Manor Nursing Home | 86 | 2001 | Ashes |
| May | Helen | Lodsworth Arms, Lodsworth | 61 | 1957 | D24 |
| May | Nona Emily | | 79 | 2004 | Old |
| May | Norman Gowen | 26 Bourne Way, Midhurst (former Rector of Lodsworth) | 74 | 1994 | Old |
| May | William | Lodsworth | 58 | 1942 | B20 |
| McNaughton | Dorothy Violet | 2 Croft Cottage, Lodsworth | 85 | 1985 | Ashes |
| Mechen | Hubert Godfrey | 10 Fox Road, Midhurst | 85 | 1952 | D1 |
| Mellersh | Elsie Caroline | Eversley, High Path, Easebourne | 75 | 1955 | Ashes |
| Moffat | James Alexander Cameron | Parents formerly of Hurlands Farm, Selham | 3 days | 1996 | H8 |
| Morley | Clement | Fernbank, Lodsworth | 74 | 1959 | E1 |
| Morley | James | Lodsworth | 81 | 1933 | A3 |
| Morley | Margery Ellen | Fernbank, Lodsworth | 87 | 1981 | H20 |
| Morley | Mary | Lodsworth | 84 | 1936 | A3 |
| Morley | Percy | Lickfold, Lodsworth | 80 | 1959 | D28 |
| Morley | Thomas | Morcomb, Lodsworth | 69 | 1956 | D18 |
| Moseley | Richard | Lodsworth | 98 | 1934 | Unknown |
| Moseley | Emma | Wallis Wood, Ockley | 87 | 1959 | C12 |
| Moseley | Henry Richard | Lodsworth | 71 | 1944 | C12 |
| Murray | John Haggert | Barwell Cottages, Selham Road | 72 | 1947 | C26 |
| Mursell | Philip Riley | Old Well House, Lodsworth | 48 | 1965 | E14 |
| Neale | Geoffrey | Church Lane Cottage, Lodsworth | 87 | 1980 | G1 |
| Neale | Stella Beatrice | Church Lane Cottage, Lodsworth | 77 | 1970 | G1 |
| Needs | Charles Arthur | Dutch Tiles, Lickfold | 66 | 1986 | G31 |
| Needs | Margaret Sheila | Dutch Tiles, Lickfold | 87 | 2007 | Ashes |
| Newman | Francis John | Smithbrook, Lodsworth | 76 | 1966 | E18 |
| Newman | Violet | Smithbrook Cottage, Lodsworth | 91 | 1977 | E18 |
| Nicholls | Alice | The Common, Lodsworth | 90 | 1952 | Middle |
| Nicholls | Eva Alice | 9 College Lane, Chichester | 90 | 1977 | G18 |
| Nicholls | Owen William | The Common, Lodsworth | 72 | 1954 | D8 |
| O'Meara | Katherine Theodora | Copley, School Lane, Lodsworth | 79 | 1983 | Ashes |
| O'Meara | Terence Barry | Huntington House, Hindhead | 93 | 1999 | Ashes |
| Older | Bridget Caroline | Lodsworth | 9 months | 1961 | Unknown |
| Oliver | Ruby | | 89 | 2008 | I28 |
| Osborn | Henry James | Lodsworth | 67 | 1948 | B26 |
| Osborn | Leslie James | Lodsworth | 72 | 1988 | H1 |
| Osborn | Marion | Orchard Way, Lodsworth | 91 | 1972 | Service only |
| Osborne | Arthur George | Gosden Heath | 38 | 1947 | C24 |
| Osborne | Kate | Gosden Heath, Lodsworth | 85 | 1954 | C17 |
| Osborne | William | Gosden Heath, South Ambersham | 77 | 1945 | C17 |
| Parker | Daniel Thomas | | 14 | 1982 | Ashes |
| Penfold | Kelly | 9 Collyers Cottages, Lickfold | 7 | 1978 | G23 |
| Penn | Alec Percy | Lodsworth | 76 | 1960 | E3 |
| Penn | Ellen Doris | Denyers, Lodsworth | 83 | 1982 | E3 |
| Philips | Barbara Marion | Leggatt Hill Farm | 91 | 1997 | F2 |
| Philips | Richard Montague | Leggatt Hill Farm | 89 | 1999 | I8 |
| Phillips | Alice Caroline Myrtle | 176 Leggatt Hill, Lodsworth | 89 | 1973 | G7 |
| Pitts | Geoffrey Turner | Erikers, Lodsworth | 58 | 1969 | E28 |
| Pratt | Jonathan Bruce Charles | Lodsworth House | 6 | 1976 | G15 |
| Pullinger | Edward Charles | Winter's End, Lodsworth | 58 | 1957 | D22 |
| Randall | Ethel | The Stores, Lodsworth | 63 | 1936 | B2 |
| Randall | John | Vanzell Road, Easebourne | 81 | 1954 | B2 |
| Ransom | Charles Samuel | Previously of River Park Farm Cottages | 84 | 1966 | E17 |
| Ransom | Minnie | River Park Farm Cottages | 83 | 1967 | E17 |
| Ransom | Emily | 15 Orchard Close, Petworth | 86 | 2013 | E17 |
| Ransom | Sidney Frank | 15 Orchard Close, Petworth | 79 | 2013 | E17 |
| Read | George | Lickfold | 75 | 1935 | A16 |
| Redding | Arthur George | Bexley Hill | 75 | 1947 | C25 |
| Redding | Emma Mary | Upper Elidge, Bexley Hill, Lodsworth | 89 | 1971 | C25 |
| Redding | John Edwin Charles | Upper Elidge, Bexley Hill, Lodsworth | 76 | 1984 | H24 |
| Renyard | Mary Marie Elizabeth | 245 Ambersham | 67 | 1974 | Selham |
| Ricketts | David Henry Frederic | Marriott House, Tollhouse, Chichester | 88 | 2011 | J1 |
| Ridgwell | Ada | Rose Cottage, Bexley Hill | 83 | 1958 | D6 |
| Ridgwell | Alfred | Rose Cottage, Bexley Hill | 81 | 1953 | D6 |
| Rogers | Alec James Ransom | Church Cottage, Lodsworth | 81 | 1978 | G24 |
| Rogers | Alice Ruth Margaret | Church Cottage, Lodsworth | 87 | 1982 | G24 |
| Rogers | Bessie | Church Cottage, Lodsworth | 88 | 1950 | Middle |
| Rogers | Hephzibah | 9 College Lane, Chichester & Brookside, Lodsworth | 89 | 1965 | C20 |
| Rogers | James | Church Cottage, Lodsworth | 80 | 1948 | Middle |
| Rogers | Lilian | Brookside, Lodsworth | 64 | 1945 | C19 |
| Rogers | Violette | Oakhurst, Midhurst | 80 | 1960 | C19 |
| Rose | Eliza | South View, Lodsworth | 94 | 1947 | Old |
| Ross Johnson | Eva Dennise | (Aunt of Anne Hammick) | 79 | 1973 | Ashes |
| Rowland | Edith Winifred | Waterworks Cottage, Quarry Farm, Petworth | 72 | 1970 | D19 |
| Rowland | Frederick James | Cobden's Farm, Lickfold | 53 | 1956 | D19 |
| Rowsell | George Norman | Royal Portsmouth Hospital | 70 | 1967 | E20 |
| Sageman | Jethro | Lodsworth | 85 | 1941 | B17 |
| Sandell | Andrew Martin Brendon | Lodsworth | 6 years | 1948 | A21 |
| Saunders | Edith Rose | Formerly of Fairview, Lodsworth | 81 | 1994 | H12 |
| Saunders | William Walter James | Fairview, Lodsworth | 72 | 1989 | H12 |
| Sawyer | Alice Lottie | Stopham House, Stopham (late of Lickfold) | 81 | 1963 | D2 |
| Sawyer | Joseph Horace | Lickfold | 64 | 1952 | D2 |
| Schmenkel | Veronica Gladys | 2 Oakfield, Lodsworth | 72 | 1992 | H9? |
| Sellar | Arthur Hugh Russell | Dunsfold | 53 | 1997 | H7 |
| Sellar | Elizabeth Maud | Keets, Leggatt Hill | 84 | 1996 | H7 |
| Shelton | Kathleen Helen | Henley | 84 | 1964 | E11 |
| Shepard | Ernest Howard | Woodmancote, Lodsworth | 96 | 1976 | G13 |
| Shepard | Norah Radcliffe Mary | Woodmancote, Lodsworth | 72 | 1977 | G13 |
| Sherlock | Arthur | Lodsworth | 72 | 1948 | C16 |
| Sherlock | Fanny Jane | Lodsworth | 67 | 1944 | C16 |
| Shervell | Maud | Ewers, Lodsworth | 56 | 1991 | Ashes |
| Shervell | Yvonne Pamela | Ewers, Lodsworth | 61 | 1991 | Ashes |
| Shirley | James Jeffrey | Stonehill, Lodsworth | 72 | 1976 | G12 |
| Shirley | Nancie | Stonehill, Lodsworth | 72 | 1976 | G12 |
| Shirreffs | Percy Charles Brand | Lodsworth Cottage, Lodsworth | 85 | 1986 | Ashes |
| Short | Gladys Lucy | Talbot House, Lodsworth | 74 | 1974 | G10 |
| Short | Leonard | Talbot Lodge, Lodsworth | 81 | 1979 | G10 |
| Silk | Leonard Albert | Formerly of Fir Trees, Lodsworth | 89 | 1991 | Ashes |
| Silk | Winifred Grace | Fir Trees, Lodsworth | 76 | 1974 | Ashes |
| Simmonds | Mary Louise | 1 Hazel View, Lodsworth | 103 | 1978 | G6 |
| Simmonds | Oliver George | Hazel View, Lodsworth | 40 | 1955 | D13 |
| Simmonds | Oliver Thomas Robert | 1 Hazel View, Lodsworth | 87 | 1972 | G6 |
| Simpson | Frederick Thomas | Lodsworth | 81 | 1967 | E33 |
| Simpson | Mary | Chillinghurst, Stag Park, Lurgashall | 80 | 1955 | D12 |
| Simpson | William | Lodge on Petworth - Northchapel Road | 92 | 1966 | D12 |
| Slade | Derrick Ernest | 4 Oakfield, Lodsworth | 68 | 1992 | H10 |
| Slade | William Thomas | Pendean, West Lavington | 89 | 2010 | I23 |
| Smallridge | Harry | Manor Farm, Lodsworth | 70 | 1963 | E10 |
| Smallridge | Janie Georgina | Hurlands, Selham | 82 | 1976 | E10 |
| Smallwood | Duncan Rockliff | Fitzlea House, Selham | 29 | 1972 | G3 |
| Smith | Annie Mary Dora | Llanelli, South Wales (formerly of Difford House) | 84 | 1994 | H26 |
| Smith | Frank Norman | 7 St John's Close, Midhurst | 84 | 1984 | H26 |
| Smith | Gladys Alice | Upper Elidge, Bexley Hill, Fernhurst | 67 | 1956 | D15 |
| Snook | Emily | West Chiltington | 72 | 1939 | B4 |
| Snook | Samuel James | Lickfold | 69 | 1937 | B5 |
| Speed | Harriet Florence | Barlavington Manor, Petworth | 93 | 2006 | E16 |
| Spooner | James | Smithbrook, Lodsworth | 86 | 1964 | B24 |
| Spooner | Mildred | Smithbrook, Lodsworth | 67 | 1948 | B24 |
| Spooner | William | Easebourne | 76 | 1934 | A12 |
| Stickley | Benjamin James | Whispers Too, The Street, Lodsworth | 94 | 2012 | Ashes |
| Stickley | Peggy | Whispers Too, The Street, Lodsworth | 81 | 1997 | Ashes |
| Storrar | Alexander | St Peter's Well, Lodsworth | 89 | 2010 | I22 |
| Stratton | Ethel Gertrude | Formerly of Jasmin Cottage, Lodsworth | 103 | 2003 | C6 |
| Stratton | Mary Jane | Lodsworth | 86 | 1937 | B6 |
| Stratton | William Thomas | Jasmine Cottage, Lodsworth | 83 | 1977 | Ashes |
| Swainson | Joyce | Guildford (formerly of Lodsworth) | 72 | 1990 | Ashes |
| Talbot | Amy | | | 1956 | Middle |
| Talbot | John | Lodsworth Post Office | 80 | 1956 | Middle |
| Talbot | Mary Bridget | Post Office Lodsworth | 64 | 1962 | E5 |
| Tarry | Beatrice Mary | Courtlea, Petworth (formerly of Lodsworth) | 93 | 1993 | D28 |
| Tarry | Henry Francis | Collyer's Cottages, Lickfold | 58 | 1957 | D28 |
| Tatham | Edward Harry Ralph | Locks Lodge, Lodsworth | 80 | 1938 | C1 |
| Tatham | Florence Eleanor | Nursing Home, Sway | 93 | 1961 | C1 |
| Tester | Dulcie | Lodsworth | 82 | 1939 | B11 |
| Thorpe | Alison Joyce | Guildford | 4 days | 1944 | Ashes |
| Todhunter | John Reginald Arthur D | Sevenoaks, Kent (previously Old Bakery, Lodsworth) | 83 | 1968 | Old |
| Tooth | Alfred George | Little Gulls Cottage, The Street, Lodsworth | 80 | 2000 | Ashes |
| Tooth | Alice Matilda | Little Gulls, Lodsworth | 68 | 1963 | E7 |
| Tooth | Ernest Charles | Leggatt Hill Cottages, Lodsworth | 83 | 1978 | ??? |
| Tooth | Frederick William | Great Gulls, Lodsworth | 80 | 1965 | C21 |
| Tooth | Frederick William | Lodsworth | 80 | 1940 | B10 |
| Tooth | Leslie (Les) | Abbas Combe Nursing Home, Chichester | 80 | 2003 | Ashes |
| Tooth | Lydia | Lodsworth | 75 | 1945 | C21 |
| Tooth | Mary Jane | Lodsworth | 77 | 1930 | B10 |
| Tooth | Phyllis Joan | Little Gulls, The Street, Lodsworth | 90 | 2010 | Ashes |
| Tooth | Robert George | Lodsworth | 79 | 1965 | E7 |
| Town | Alfred | Halfway Bridge, Lodsworth | 68 | 1950 | C31 |
| Townsend | Emma | Lodsworth | 56 | 1954 | C31 |
| Trengrouse | (Molly) Helena Muriel | Farthings, School Lane, Lodsworth | 64 | 1978 | Ashes |
| Tribe | Rosa Kate | Midhurst | 82 | 1941 | B3 |
| Tribe | Thomas | Lodsworth | 82 | 1937 | B3 |
| Trussler | Albert | Previously of May Cottages | 85 | 1967 | E19 |
| Trussler | Albert Sydney | 1 New Cottages, Selham Road | 83 | 1988 | H3 |
| Trussler | Alfred | Gentils Farm Cottage | 60 | 1974 | Ashes |
| Trussler | Brenda | 52 Ravensbourne Court, Warren Way, Woodingdean | 69 | 1999 | Ashes |
| Trussler | Eli Thomas | Blackdown, Lodsworth | 84 | 1961 | D11 |
| Trussler | Elizabeth | May Cottage, Lodsworth | 87 | 1963 | E8 |
| Trussler | Emma Elizabeth | Bexley Hill | 86 | 1955 | D11 |
| Trussler | Fanny | South Ambersham | 96 | 1935 | A14 |
| Trussler | Ferdinand William | Lodsworth | 69 | 1972 | E8 |
| Trussler | Joan Edith | | 85 | 2007 | Unknown |
| Trussler | John Cyril | 2 May Cottages, Lodsworth | 60 | 1987 | H2 |
| Trussler | Nina Grace | 1 Selham Rd, Lodsworth | 82 | 1989 | H3 |
| Turner | Lilian Constance | Fernbank, Lodsworth | 82 | 1979 | G25 |
| Turton | Arnold John | Point Cottage, Lodsworth | 75 | 1975 | Ashes |
| Turton | Harold John | Point Cottage, Lodsworth | 75 | 1975 | Ashes |
| Tyser | Christine Mary | Manor House, Lodsworth | 77 | 2000 | I6 |
| Tyser | Peter Anthony | Manor House, Lodsworth | 84 | 2001 | I6 |
| Vaughan | Florence Gertrude | Lickfold, Lodswoth | 70 | 1959 | D31 |
| Vaughan | Percy Newbrook | Lickfold | 77 | 1967 | D31 |
| Wakeford | Bertha Alice | River | 80 | 1968 | E30 |
| Wakeford | Charles Edward | Keepers Mead, River | 86 | 1971 | E30 |
| Wakeford | Charles Edward | Yew Tree Cottage, Lodsworth | 78 | 1987 | Ashes |
| Wakeford | Elizabeth May | Yew Tree Cottage, Lodsworth | 74 | 1987 | Ashes |
| Wakeford | Ernest Charles | Brickyard Cottage, Lodsworth | 78 | 1952 | C34 |
| Wakeford | Fanny Georgina | | 87 | 1962 | E6 |
| Wakeford | Percy | Keepers Mead, River | 78 | 1953 | D3 |
| Walker | John | Primrose Cottage, Lodsworth | 78 | 1984 | Ashes |
| Walker | Muriel Winifred | Primrose Cottage, Lodsworth | 70 | 1976 | Ashes |
| Warner | Bertha | Manor Farm Cottage, Cold Ash, Newbury | 86 | 1948 | A4 |
| Warner | Frank | Upper Vinings, Lodsworth | 75 | 1933 | A4 |
| Warner | Grace | 2 Tudor Court, Upper Bognor Road, Bognor Regis | 77 | 2007 | Ashes |
| Warner | Rose Lily | 2 Tudor Court, Bognor Regis (formerly of Great Ham Mead) | 101 | 1996 | E29 |
| Warner | Wilfred Thomas | Great Ham Mead, Halfway Bridge | 77 | 1968 | E29 |
| Waterlow | Emily Louise | | 69 | 1965 | E12 |
| Watson | Alice | Lodsworth | 82 | 1940 | B15 |
| Watson | Mabel Court | Lodsworth | 50 | 1934 | A8 |
| Watson | Peter Douglas | Hollist Arms, Lodsworth | 24 | 1985 | Ashes |
| Watts | Pamela Elizabeth | Lodsworth House East, Lodsworth | 62 | 2001 | I5 |
| Watts | Valentine Michael R | Musgrove Park Hospital, Taunton | 76 | 2013 | I5 |
| Webb | Olive Ruth | Formerly of Lodsworth | 78 | 1990 | Ashes |
| West | Frank | St Richard's Hospital, Chichester | 81 | 1956 | Middle |
| West | Sarah | Church Lane, Lodsworth | 86 | 1949 | M |
| Whitten | Kathleen Edith | Formerly of Ewers, Church Lane, Lodsworth | 88 | 1995 | Ashes |
| Whitten | Maurice George | Ewers, Lodsworth | 89 | 1982 | Ashes |
| Whitworth | Alfred | Lodsworth | 74 | 1934 | A6 |
| Wiener | Arthur | Lodsworth House | 88 | 2003 | Ashes |
| Wiener | Patrick Pierre Max | | 76 | 2009 | I27 |
| Wildman | Grace Eliza | Arundel, Sussex | 87 | 1969 | C15 |
| Wildman | Robert | Lodsworth | 67 | 1944 | C15 |
| Wildman | Ronald Leslie | 30b William Bond Street, Devenport, Auckland | 79 | 1996 | Ashes |
| William Thomas | Berry | 14 Beechfield, Lodsworth | 71 | 1983 | H21 |
| Williams | Betty Eileen | Formerly of Lodsworth | 71 | 2000 | E13 |
| Williams | Keith Rolls | Lodsworth | | 2007 | I31 |
| Williams | Lucy Constance | Augusta Court, Chichester | 90 | 2010 | I31 |
| Willoughby Brown | Edith Caroline | Lodsworth | 70 | 1946 | C23 |
| Winterbottom | Louie Marjorie | 2 Leith View Cottages, Kingsfold, Horsham | 71 | 1984 | H27 |
| Witts | Alexander | Netherlands Farm, Tillington | 70 | 1963 | E9 |
| Witts | Helen | Netherlands Cottage | 76 | 1969 | E9 |
| Woodhatch | Mark | 1 Hill Cottages, Heyshott | 81 | 1955 | B33 |
| Woodhatch | Mary | Church Lane, Lodsworth | 77 | 1951 | B33 |