Charles Henry Sims enrolled at the South Kensington College of Art before moving to Paris for two years at the Académie Julian and then to the Royal Academy School in London, from where he was expelled.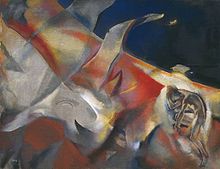 By 1896 he had developed an increasingly successful career. An expert at portraying sunlit landscapes, he specialised in society portraits and neo-classical fantasies, typically idealised scenes of women, children or fairies in outdoor settings.
He was elected a fellow of the Royal Watercolour Society and to the Royal Academy.
By 1911 he lived in Woodmanscote, Lodsworth.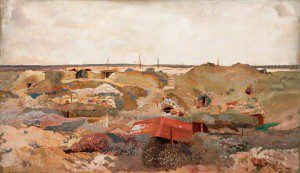 The First World War was a traumatic experience for him – his son was killed and he witnessed horrific scenes as an official war artist.
His final paintings, termed "Spirituals" featured naked figures against abstract apocalyptic backdrops. They were rejected by the artistic establishment for their baffling content and modernist style. In 1928 he committed suicide by drowning himself.[1][2]
---
[1] Based on Wikipedia
[2] Paintings from Tate and Imperial War Museums collections