Voices from (and about) Lodsworth's Past
Since our Society begun, we have been recording an oral history of Lodsworth. These recordings of interviews with past and present parishioners are being stored for posterity, so later generations can listen and learn about what happened in Lodsworth in the 20
th
century. We also hold other earlier sound recordings of past Lodsworth residents. Below are some short extracts of recordings of very well-known Lodsworth residents, some of whom are sadly no longer with us. Click on the play arrows to hear them.
Joan Corbett (1917-2014)
(Recording to be added)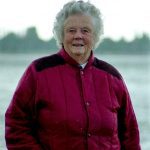 Soon after Joan and her husband 'Jack' Corbett bought The Studio in Church Lane, Lodsworth, Jack was posted by the Foreign Service to Chicago. It wasn't until 1969, when he retired, that they took up permanent residence in Lodsworth. From that time they both became very active in many, many aspects of Lodsworth life. In this interview with Derrick Hamon, Joan talked about the unusual history of her house, which was originally built as an artist's studio, her neighbours including E H Shepard, the church choir, the Lodsworth Players and numerous other subjects.
José Grant Crichton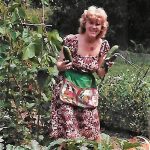 José Grant Crichton moved to Lodsworth as an evacuee during World War II. She lived with her husband Oliver in Upper Vinings until 2001, when they moved to Petersfield. In this short extract from an interview with Tony Brooks, she recounts her memories of Lodsworth's shops, post office and public houses.
Mike Hubbard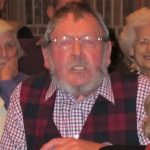 'What a splendid evening!' and 'a triumph' were among the plaudits for our 2019 AGM Plus. Well-known local character Michael Hubbard was interviewed about his life and memories by Maggie Benzimra. Mike is the grandson of 'Winkle' Ayling the Lickfold 'Bun King', long-term postman in this area, previous Petworth Town Crier and regular, well informed and amusing contributor to all our meetings. Here are a few short extracts from the evening. Firstly, postman Mike delivering a letter to the Lurgashall vicar:
Lodsworth school and Fernbank nursery:
'Winkle' Ayling's sayings during World War 2:
Gerard Eccles McKee (1935-2013)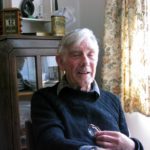 Gerard McKee lived in Rushen in The Street, Lodsworth from 1966 until his death in 2013. Up until his retirement he taught Art at Midhurst Grammar School. In this interview extract Gerard talks about his neighbour, the artist and illustrator E H Shepard.
Maggie E Patterson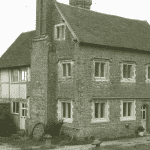 In this exerpt from an interview with Maggie Benzimra, Maggie Patterson talks about the ghosts which were supposed to haunt the early 17
th
century Fitzlea Farmhouse in the south east corner of Lodsworth parish.
'Little Betty' Simmonds (1917-2016)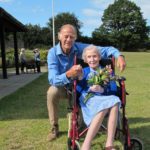 Betty Simmons was born in a cottage in the centre of Lodsworth and lived there for almost all of her life. She attended the village school until she was 14,  worked in domestic service in many Lodsworth households including that of Lady Fiennes, and served in the WAAF during WW2. In this interview with Deryck Hamon she spoke about the many changes she had seen, but despite the many changes she believed there was 'still a good spirit in Lodsworth'. 'I would not want to be anywhere else'.