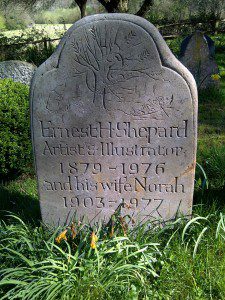 A notable former resident of Lodsworth, illustrator E. H. Shepard died on 24 March 1976 in his 97th year and is buried in St Peter's churchyard with his gravestone illustrated by one of his drawings.
Fortunately there are still, quite a number of older residents of Lodsworth who remember him well for he lived at Woodmancote at the top of Church Lane for many years until his death and he was a familiar and respected figure in the village. Until the end of his life he regularly attended Evensong at St Peter's Church, and it is not untrue to say that latterly the service was retained especially for him.
Best known to the world at large as a Punch artist from 1907 onwards and as the much-loved illustrator of Kenneth Grahame's classic The Wind in the Willows and of A. A. Milne's Christopher Robin and Winnie the Pooh books, Ernest Shepard was a talented artist in many forms, and his design for the cover of Outlook, which it has graced for over a quarter of a century is probably the specimen of his work best known to the people of Lodsworth. It depicts the view across to River as seen from Woodmancote, with small sketches of Lodsworth and Selham churches and also the former Chapel of St Hilda at Lickfold which was erected in 1854 and finally demolished in 1976.
Ernest Shepard served with distinction in the Royal Artillery during the 1914-1918 war and was awarded the Military Cross. His elder brother Cyril was killed in Picardy in 1916. This loss and the death of EHS's son Graham at a later date were two severe blows.
He was a gentleman of the 'old school', considerate and impeccably polite, and he is remembered with affection by those who knew him. His memories of his Victorian childhood in London in the 1880s, published under the title Drawn From Memory by Methuen in 1957 and subsequently by Penguin in 1975, is a delightful book, copiously illustrated by the author, and is warmly recommended to anyone who is interested in knowing more about one of the most distinguished of Lodsworth's former residents.
Source: Taken from an article published in Outlook in November 1989 by its then editor, Peter Longhurst of Old Vining Wood, Lodsworth.