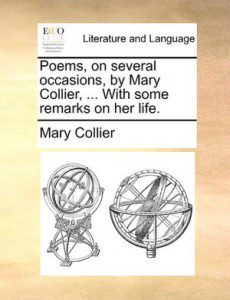 There is disagreement about her parents and her date of birth, but she is probably the 'Mary, daughter of William Collyer' baptized in Lodsworth, Sussex on 9 October 1688.
Information about Collier's life is mostly drawn from 'Some remarks on the author's life drawn by herself', prefaced to her Poems on Several Occasions (1762). She describes the education she received from her parents, 'by whom I was taught to read when very young'. On the early death of her mother she was 'set to such labour as the country afforded'.
Mary Collier's reputation rests on The Woman's Labour, a spirited polemic, sharply descriptive of female labour. Witty and energetic, the poem depicts the long hours of toil of both the agricultural labourer's wife and of the domestic servant.
Immortal Bard! thou Fav'rite of the Nine!
Enrich'd by Peers, advanc'd by CAROLINE!
Deign to look down on One that's poor and low,
Remembring you yourself was lately so;
Accept these Lines: Alas! what can you have
From her, who ever was, and's still a Slave?
No Learning ever was bestow'd on me;
My Life was always spent in Drudgery:
And not alone; alas! with Grief I find,
It is the Portion of poor Woman-kind.
Collier continued as a washerwoman until she was sixty three, when she moved to Alton to take care of a farmhouse. At the age of seventy, in poor health, she retired to a garret 'to pass the Relict of my days in Piety, Purity, Peace and an Old Maid'.[1]
---
[1] Oxford Dictionary of National Biography