Events planned for the coming year:
Thursday 14 November – Our autumn meeting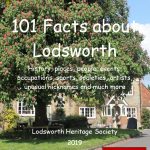 Our November meeting is one of the highlights of our LHS year and 2019 should be no exception.
The theme of the evening will be the launching of the Society's new publication '101 Facts about Lodsworth'. The 101 facts include a wide range of interesting, unusual and amusing facts and tales about our parish of Lodsworth. It covers history, places, people, events, occupations, sports, societies, famous artists, unusual nicknames and much more. It will be of obvious interest to newcomers and visitors to Lodsworth, but we hope that even long-term residents will all learn something from it!
At our meeting there will be displays and short presentations about a selection of the facts and copies of the publication will be available for purchase.
Doors open at 7.30pm and the meeting starts at 8pm. No need to book, just turn up!
AGM Plus – 2 April 2020
A date for your diaries. Our AGM Pluses are always very popular events. As usual we will organise a speaker and displays, as well as the necessary but very short formal proceedings of an AGM. More details will be available in the New Year.
We also hope to have a workshop entitled 'How to use the new Lodsworth Community Archive  to research your community, your house or your family history'
Details of all these will be emailed or posted to members and will be announced in Outlook.