Visit to Lodsworth House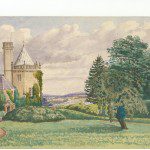 In August 2017 members of the Society enjoyed a guided tour and reception at Lodsworth House, one of the most interesting historic houses in the parish. It was designed and built in 1838 for Hasler Hollist by country house architect Edward Blore. Our thanks to Jim & Anne Summers for inviting us.
Three talks, an old video and old photos
As usual our AGM Plus in March 2017 was far, far more than just an AGM. Over 60 members and friends enjoyed:
Peggy Martindale ringing all four of St Peter's bells

'Researching the thousands of burials in St Peter's old and new churchyards' by James Tree

'A tour of Lodsworth Heritage Society's website' by Ian Buckingham
'The West Sussex Record Office' by Matthew Jones, Assistant County Archivist
A short video of an interview by Alan Whicker of the remarkable Peggy Martindale who rang all St Peter's church bells single-handedly – or rather using both hands, an elbow and a foot!
A display of all our old photographs of the parish of Lodsworth.
'A history of St Peter's Church and the chapels of Lodsworth, their architecture and their clergy'

St Peter's has a fascinating history and in autumn 2016 Jamie Fisher described with illustrations how it and the chapels in the parish had evolved.
Ian Buckingham had been researching the incumberts over the 600 years the church has been part of Lodsworth life. He recounted some delightful stories of our past vicars, including the famous motor cycling journalist 'Ixion' shown in the photo.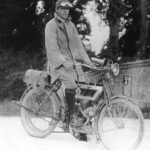 If you missed the event but would like to hear how the buildings evolved or stories of some of the past clergy, send us a message.
Sir Ranulph Fiennes frightens and delights Lodsworth

Lodsworth Heritage Society was delighted in 2014 to welcome back to the village the Army officer, explorer, adventurer and author Sir Ranulph Fiennes. Ran Fiennes spent part of his youth in Lodsworth, living in one of its oldest houses, St Peter's Well. 100 villagers and guests attended a marvellous lunch in the village hall organised by Sue Buckingham, Penny Tree and their team. Following this, Ran recounted many of the exploits of his life, starting with his time in Lodsworth:
'While at Eton I practised stegophily – which I had learnt in Lodsworth – the art of climbing buildings by night. I don't want to upset anyone here but Peter Tooth and I managed to climb every single roof in Lodsworth by night apart from … because that was in such a bad state of repair it was dangerous!'
After service with the Army, SAS and the Omani forces, Ran's first 'professional' expedition was to Norway. This started with a parachute jump onto a glacier, landing in a tiny drop-zone between the crevasse fields and cliffs, and ended with a frightening sounding descent by another glacier and river. Ran's expedition team included Zena Davies's brother Bob Powell who was present at the talk.
Ran recounted a river expedition from the north to south of British Columbia to celebrate its centenary, the first ever circumnavigation of the world along a line of latitude through both poles, the longest unsupported polar journey in history, and other similarly horrendous sounding exploits. Through these expeditions he has raised over £16.3 million for charity.
At the event he was able to meet many old Lodsworth friends, including 'Little Betty' Simmonds, Bunny Storrar who lives in the house his family once occupied and Julie Hoskins.
Afterwards he autographed copies of two of the over 20 books he has written, 'Beyond the Limits' and 'Cold – Extreme Adventures at the Lowest Temperatures on Earth'.
As one villager said afterwards '… the talk was most amusing, though it left me feeling a bit feeble'.