Deryck Hamon recently purchased 40 photographs of the Lodsworth area taken by Donald Ashley Birkinshaw. We are grateful to him for making these available to Lodsworth Heritage Society and we will be adding some of them to this website.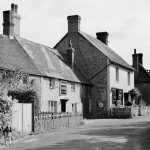 The photographs come from an extensive archive of over 15,000 images, taken between 1938 and 1956 covering Sussex, Surrey, Hampshire, Devon, Cornwall, Wiltshire, Berkshire, Somerset, Dorset, Isle of Wight and the Isle of Scilly. The archive lay undiscovered for many years until 1997, when it was purchased from the Birkinshaw family.
Donald Ashley Birkinshaw was born in 1922 and attended Nottingham High School and Whitgift Grammar School, Croydon. From an early age the countryside, photography and classical music were his hobbies. His photographs were accepted for county magazines as early as 1938.
He joined the civil service in 1939 working for the Home office, Ministry of Transport and Ministry of Agriculture until 1946, the following year he produced his "Ashley Series" of postcards and calendars. He stopped production in about 1953 as purchase tax made his profit margin too small to continue. From 1953 onwards he only took photographs for his own pleasure.