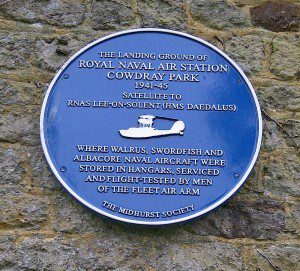 Firstly, I would like to say how much I enjoyed Mr Kingshott's wartime memories posted on your site.
Secondly, I wonder if someone might be able to ask him if he remembers a fete held at Hurlands Farm during WWII which was interrupted by an air raid. I am writing up the history of RNAS Cowdray Park and this raid is relevant as some locals I have interviewed thought at the time that the Luftwaffe may have been looking for the air station. Unfortunately no one can put a date to the raid and I cannot find any obvious mention in the ARP reports. Would Mr Kingshott know when it occurred?
I would also be interested to know if Mr Kingshott recalls when the searchlight battery in the item posted moved, as three Wrens helping me with research, based at Selham Place (Milburgh Hall) around D-Day, do not recall seeing any searchlights. Mind you, they don't recall the air station either – after all, it was a long time ago, and there was a lot else going on!
Posted by Tania Pons
I was born in June 1938 and so I am not a totally reliable source. Much information came from my mother. Hope this helps:
1.       She frequently spoke of the fete at Hurlands, which was organised by Mrs Meriel Koenig whose husband (German) ran the farm. I am not sure the fete was interrupted by a raid, but I understood the RAF insisted it was brought to an early end. I am not sure that RNAS Cowdray Park was there at the time (1940 I think) but you will have the dates. Mrs Koenig later became a noted organiser of Young Farmers' activities. My mother played the harmonium in Selham Church for several appropriate services. Mrs Koenig dragged along a wide cast of characters who lived in the farm which also housed Ministry of Agriculture and Fisheries offices.
2.       There was a great deal of Luftwaffe activity over Lods Mill.  My mother claimed to have been machine-gunned with me in her arms. Some of the Morley lorry drivers came back from Portsmouth and Southampton with graphic tales of the bomb-damage.
3.       I have strong memories of the searchlight battery and certainly saw its beams in the night sky. It was on the edge of the woods just down the hill from Selham Place, opposite the garden entrance to Selham House (then occupied by Dowager Lady Cowdray). I think it moved out before the war ended, but cannot be sure.  I remember rummaging in the remains on a family walk. It was along this same road that I picked up strips of "window" which were dropped as part of pre-D.Day practice. There was a slit trench guarding the junction of the Graffham and Duncton Roads.
Posted by Brian Kingshott
Thank you so much for answering my request so speedily and for your helpful reply. I must say, other contributors also put the fete in question as happening earlier on in the War. So far I haven't ascertained the exact date the Navy commenced putting up hangars etc at Cowdray Park, but we believe the air station was commissioned in March 1941; the first rent came in from the Admiralty in June 1941 and we know that the first contingent of air mechanics arrived in October 1941. So I wonder if that particular raid could have been as late as the summer of 1941?
Anyway, on the subject of the searchlight battery, somewhere in my records I have a photocopy of an aerial photograph taken by the RAF in 1945 of the area near Selham Place/Selham House/The Three Moles. I did take a walk there some two years back with a local gentleman, Ron King, who sadly passed away not long ago, and he showed me a concrete strip which was put down to prevent wheel erosion for vehicles entering the searchlight battery site. However, I never really gleaned on that visit where the actual lights were so if you wouldn't mind taking a look at this shot, and if it is obvious, mark with an X where the lights were, I would be very grateful.
Incidentally, I am still in regular contact with John Moffat, a wonderful man with an astounding memory. Lots of very funny stories to tell: it seems clear to me he really enjoyed his time at Ambersham. I emailed him a link to your article, as I know that he will enjoy reading your recollections enormously. He too is a fan of Foyle's War and was delighted to learn it was filmed in Midhurst.
Posted by Tania Pons